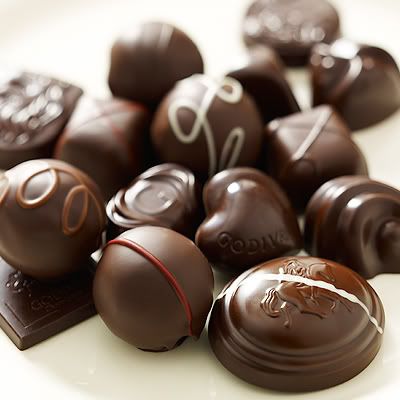 If you were to ask me what my favourite food was in the whole wide world, I would answer, without a single doubt, 'Chocolate'. When I was young, it used to be the sweet kind, like milk chocolate or white chocolate with raisins and nuts and stuff, however, the older I get, the darker the better, the bitterer the better. I thought I might give a few tips as to how to taste chocolate for all you poncey chocolate lovers out there (believe it or not, there is an art to it!):
Chocolate should be at room temperature before tasting. Cold temperatures ruin the texture and hinder your abilities to detect the flavours.

Break it into bitesize pieces. Smell the chocolate at the break point before tasting. Inhaling will prime the tongue for the chocolate you are about to taste.

Place it on your tongue and allow it to come to body temperature, don't chew! (I know it's tempting!) It will slowly melt, let the cocoa butter distribute evenly in your mouth.

Observe the taste and texture, a good quality chocolate should have a very smooth creamy texture and should have an after taste leaving you wanting more!
It's almost like wine tasting, right? (Forgive me if there are some differences, I have a zero tolerance to alcohol, in other words, I'm a complete lightweight, so I tend to stay away from anything alcohol related.)
Speaking of chocolate, I am digging Wonderwall's new concept flagship store for Belgian chocolatiers Godiva in Harajuku, Tokyo. The melting chocolate ceiling is enough to make me drool all over my keyboard! I love how it's playful and traditional at the same time. I'm so hungry.